Play Based Learning:
Children learn through play.  We believe that by offering free play and guided play, our children will hold the key to more fulfilling lives.  When children play, they learn valuable skills such as social and emotional competence.
We prepare our children to succeed in school by creating an environment that fosters confidence, curiosity, self-control, empathy, open communication, and cooperativeness. We believe that school success requires understanding of other people's feelings and viewpoints, cooperating with adults and peers, emotional self-control, and the ability to resolve conflicts constructively. This social and emotional school readiness is critical to successful kindergarten transition and success in the early grades.
At SLC, we encourage creativity through play.  Academics are never forced to our children because it gives them the impression that learning is a chore rather than something that derives naturally from curiosity and exploration.  We focus on learning as a process rather than achievement. Below are some examples of how play based learning differs from traditional schooling: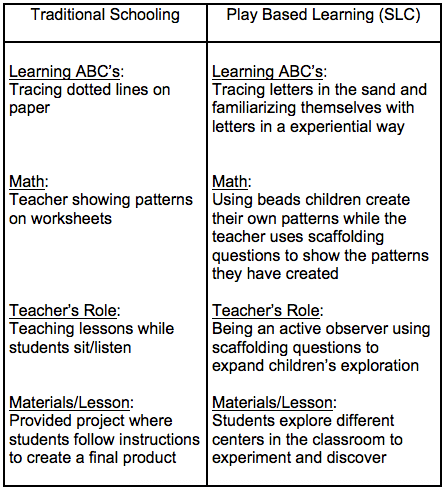 Role of Educators: 
Early childhood educators are not only nurturers, they are partners, facilitators, observers, and co-learners who have a deep understanding of developmentally appropriate practice.  Our program is, at its heart, child-centered.  We have basic trust in the child to be an initiator, to be an explorer eager to learn what he is ready for.  Because of this trust, we provide the child with only enough help necessary to allow the child to enjoy mastery of her own actions.  During care activities (diapering, eating, dressing, etc.), we encourage all children to become an active participant rather than a passive recipient of the activities.
The educator's role is to create an environment where the child can explore freely. The environments are the product of a planned and thoughtful approach to learning that reflects the skills, needs and interests of the people.  We build on their interests by providing an environment that promotes learning experiences and by asking open-ended questions in play. Our teachers are trained in the positive behavior support method. Below are some examples of how we respectfully communicate to the children at our school.
Teachers scaffold learning by asking open- ended questions that may expand or deepen a child's play and experiences.
What is your plan?  Do you need anything else?  What do you think will happen next?  Will you tell me more about…?  How could we make…?  Why?
Teachers narrate conflict and guide problem solving between children when appropriate.
"I see John and Jill are both wanting to use the same toy.  John is holding it and Jill is reaching for it.  We have two children and only one toy.  How do you think we could we solve this problem?"
Teachers set loving limits while acknowledging children's emotions and offering choices.
"You are feeling sad that it is time to leave the park.  I understand.  You wanted more time and we're going back to school.  I can see you want my answer to be different.  How disappointing.  Would you like to hold my hand as we walk back or would you like to hold the rope with your friends?"
Environment: 
Our classrooms are set up with learning centers based on Washington State Early Achievers requirements. Each classroom has the following centers available to children during free play: home living center/dramatic play, sensory center, block center, math center, fine motor center, art center, science center, reading/resting center.  We adapt the space and materials based on what the children are interested in.
Our approach supports child development because educators understand individual differences and arrange their room so that children can explore at their own pace.  We make available a wide range of materials and activities in order to allow children to make their own choices.  We observe each child carefully to understand the child's communications and needs.  The more we observe, the more we understand and appreciate the enormous amount and speed of learning that happens during the first 5 years of life. We become more humble, we teach less, and we provide an environment for learning instead.
Physical Activity:
Seattle Learning Center believes that active free movement and exercise improves learning.  Our children spend time outdoors twice-a-day, rain or shine.  In good weather, we extend our time for outdoor play.  We go on walks, play at the park, or play games and run at the field. Also, we have gymnastics lessons twice a week, taught by a gymnast student from Seattle Pacific University.
Each classroom promotes physical activity by including some combination of the following: yoga, movement lessons, providing tumbling mats for climbing/movement, and dance.  We talk to children about safe times and places to move quickly and provide opportunities for gross motor movement in and out of the classroom.
Early Childhood Portfolios:
Children's development are documented monthly using the Focused Portfolio and Creative Curriculum format.  We keep track of developmental milestones using the Center for Disease Control (CDC) milestone checklist. Portfolios are shared at every parent/teacher conference.
Positive and Respectful Discipline Methods:
At SLC, we use discipline methods that are developed by experts.  Each child is unique and each method listed here is used depending on the child's temperament and in a developmentally appropriate way.
Love and Logic focuses on teaching children empathy and problem solving while giving choices.  It is founded in 1977 by Jim Fay and Foster W. Cline, M.D.
Emotion Coaching is founded by Dr John Gottman and focuses on labelling and validating children's feelings, dealing with problem behavior, and problem solving.
Positive Discipline is founded by Dr Jane Nelsen and teaches social and life skills in a manner that is deeply respectful and encouraging for both children and adults.
The RIE Philosophy developed by Magda Gerber is about respect for, and trust in the baby to be an initiator, an explorer, and a self-learner.
Some men generally old who are facing sundry heartiness problem, such persons can get drugs from the Web without any problem. There are a number of reliable internet drugstores that will offer legitimate discounts. Finasteride is one of the perfect treatment options of all day. If you're concerned about Finasteride, you have to learn about propecia price and propecia cost. How you can get thorough information about finasteride price? Here are few key points about Finasteride and finasteride cost. Alopecia is the general medical term for hair loss. By the way, there are some of possible explanations and pharmacists are commonly able to pinpoint your problem through tests. Of course, take Finasteride exactly as set by your health care purveyor. Remember that purchasing medicines without a recipe men usually get false generics.